Top 7 Luxurious Shopping Malls in India
Addressofchoice
02 August 2019
Food lovers, as well as shoppers, love India,and it is one of their most favorite destinations. The large shopping malls offer some great food choices and a wide range of shops to buy from. India is a place where there are some of the biggest shopping malls in Asia and the city of dreams, Mumbai is a place which has most of the largest shopping malls in the country. However, other places also deserve mention like the recently inauguratedLulu shopping mall of Koch, which is the biggest mall in India. Top 7 largest malls in India are as follows.
Top 7 Shopping Malls in India
1. Lulu Shopping Mall Kerela
Address: 34/1000, Old NH 47, near to Nethaji Nagar, Edappally Junction, Nethaji Nagar, Edappally, Kochi, Kerala 682024

Timing: 10 AM- 10 PM Everyday

Phone: 0484 272 7776
Asia biggest mall in India is the Lulu Cochin shopping Mall. Itcan be found in the port city of Kerala named Kochi. The Lulu shopping mall is the biggest mall in Kerala and one of the largest shopping malls in Asia with an area of 3,900,000 sqft area. The mall complex includes a five-star JW Marriott Hotel,and the rest of the area comprises the shopping mall.
2. High Street Phoenix Mumbai
Address: 462, Tulsi Pipe Rd, Lower Parel, Mumbai, Maharashtra 400013

Timing: 11 AM- 10 PM Everyday

Phone: 022 4333 9999
Located in the central part of Mumbai, this space once housedtextile mills that was later transformed into a real estate hotspot. The High Street Phoenix has a retail space of approximately four million sqft and finds its place in the top malls of India. It has about 600 stores, with brands like Burberry, Dolce &Davidoff, Elizabeth Arden, Gabbana, and Zara. It also has the retail chains like Big Bazaar and toy retailer Hamleys, apart from boasting of the toprestaurants in the city. The mall also has a five-star hotel in its compound which was earlier run by Shan-Gri-La Hotels & Resorts.
3. World Trade Park Jaipur
Address: Jawahar Lal Nehru Marg, D-Block, Malviya Nagar, Jaipur, Rajasthan 302017

Timing: 11:00 AM- 11:00 PM Everyday

Phone: 180018044444
World Trade Park shopping mall in Jaipur is the second largest mall inIndia.It is located in the Malviya Nagar region of Jaipur. The mall took Rs. 350crores to build and was completed in twoyears. There are two blocks in the mall: one in North and other in South, separated by a city street. The two buildings are connected by a bridge, which has restaurants.
World Trade Park Jaipur has a display system where 24 projectors create one image on its ceiling. This is the first system of its kind in the world. The mall was awarded "Mall of the Year" and "Best Architect" by BCI of India.
4. Mantri Square Mall Bangalore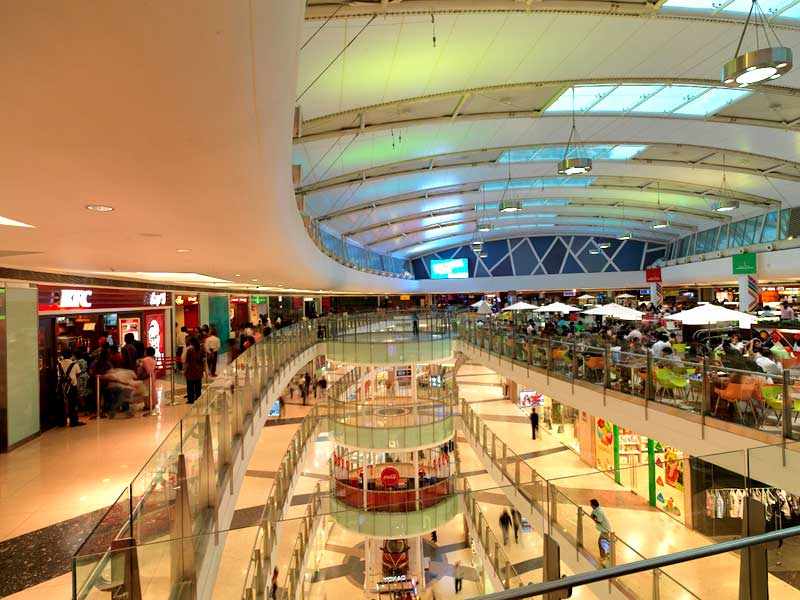 Address: Sampige Rd, Malleshwaram, Bengaluru, Karnataka 560003

Timing: 09:30 AM- 11:30 PM Everyday

Phone: 080 3016 0000
Located at Bengaluru's Malleswaram area, the Mantri Square Mall has a retail area of 1.7 million sqftwith Mantri mall stores spread over three floors. Before Lulu mall came into existence, Mantri Square used to be one of the largest malls in South India. It has more than 240 retail outlets that cover 11,000 brands. The mall is famous for traditional types of entertainment events like plays and open space shows.
5. DLF Mall of India Noida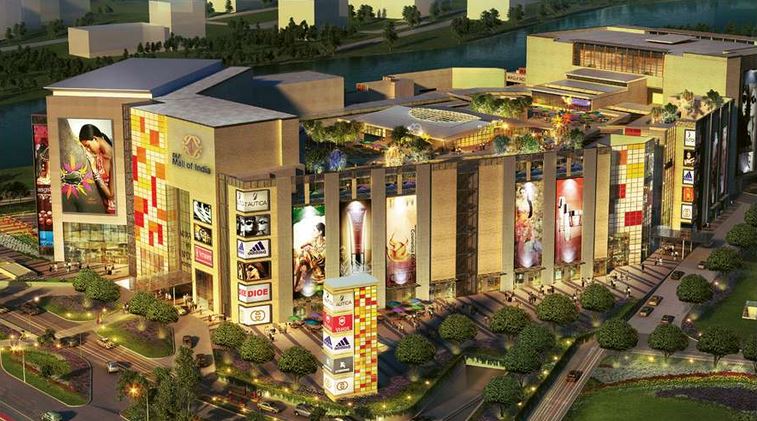 Address: Plot No - M 03, Sector 18, Noida, Uttar Pradesh 201301

Timing: 10:00 AM- 12:00 AM

Phone: 0120 620 9971
DLF Mall of Noida is the biggest mall in DelhiNCR as well as India. It is located in Noida NCR and is the first destination mall of the country. The mall is situated in Sector 18, Noida, Uttar Pradesh, India. It is spread over seven floors and is home to 330 brands, 80 kiosks, 5 customized shopping zones. Apart from the stores, there are 75 food and beverages options and a movie theatre (PVR Cinemas) with seven screens for everyone to enjoy.
It is good news for dedicated shoppers that some of the best malls in India are operational, and you can visit them and shop till you drop!
Developed by DLF Limited, the mall was expected to be operational by December 2014, but eventually opened for public in February 2016. Mall of India was planned and designed by the British architectural firm Benoy, with six customized shopping levels including international and Indian fashion, dedicated kids zone, entertainment, international cafes, food court and restaurants with a race track atrium.
6. The Great India Palace (GIP) Noida
Address: Plot No A-2 Sector 38-A, Noida, Uttar Pradesh 201301

Timing: 10:00 AM- 10:00 PM

Phone: 0120 465 0300
The Great India Palace is a first largest mall in Noida City. It is located in near noida sector 18 metro station. It is alwo known as GIP Mall. It is one of the biggest mall in India.
7. Z Square Mall Kanpur
Address: 16, 113, Mall Rd, Bada Chauraha, Downtown, Kanpur, Uttar Pradesh 208001

Timing: 11:00 AM- 10:00 PM

Phone: 0512 237 4444
Z square mall is located in the leather city Kanpur. It is opened since 2010. It is a 4 largest shopping mall in India according to area.