Serviced Apartments in Bangalore for short and Long stay
Samar Javed
29 February 2020
Do corporate professional commitments make you travel a lot and you have to spend much of your time in the hotels rather than being at home? If such is the case, don't you get bored living in the same claustrophobic room with the same set of facilities in every hotel only with name and brand changed every time? Don't you wish to have the comforts of staying in a home away from home? If you have thought about these questions before and have been looking for an ideal option then serviced apartments serve your needs.
What is a serviced apartment?
A fancy term for a fully furnished apartment, a serviced apartment gives the comforts of a home with the facilities of the hotel. Whether it is for a short stay or long duration, choosing to live in a serviced apartment is any day better than putting up in an unfurnished flat or a hotel. Starting right from having an independent kitchen where you can cook as per your taste to a spacious living room with nice furniture there are rooms which are well equipped and beautifully accessorized. In addition to this, the guests in serviced apartments have access to amenities like gymnasium, swimming pool, restaurants and other services which are available in the society.
What all is available in a serviced apartment?
A kitchen with dishwasher, microwave, kitchenware and cutlery
Living area
Bathrooms
One or more separate bedroom
Water and electricity are provided
TV, Wi-fi and access to the latest technology
Housekeeping serviced
What differentiates serviced apartments from hotels?
Staying in a hotel would mean you have to live in the confined space, eat what the in-house dining offers and be dependent on the room serviced or anything big or small. On the other hand, serviced apartments come with the following advantages:
Convenience and flexibility
Abundant of space
Stay for as long as you want
Cost-effective
Finding the Best Serviced Apartment in Bangalore
Bangalore, the IT Hub of India has a vast population to cater to owing to the sea of opportunities the city offers. For this reason, people who travel to the city either on long term basis or for short durations find living in serviced apartments a good option. Following is the list of best-serviced apartments in Bangalore:
Misty blue Serviced Apartments:
Located on Bannerghatta Road, this property is 36 km from the International Airport and is fully furnished.6 km from ISKCON Harekrishna Temple; these serviced apartments are fully furnished, hygienic and offer numerous facilities to the geusts.
Address: no.24 sainivas 6th Cross Road, Bannerghatta Main Rd, Panduranga Nagar, Bengaluru, Karnataka 560076
Hours: Open 24 hours
Phone: 077600 45897
Review- 4.5*
Amenities- Wi-Fi, Room service, Brea fast, Parking Free, Airport Shuttle

The Paul Bangalore:
If you wish to reside in a 5-star property, then this should be a perfect pick because you will get the best of the amenities to make your stay comfortable and luxurious. Irish Pub and Murphy's Brew house here are the added highlights of this property which add four feathers to the flamboyancy.
Address: 139/28, Domlur Layout Opp. Embassy Golf Links, Off, Intermediate Ring Rd, Krishna Reddy Layout, Amarjyoti Layout, Bengaluru, Karnataka 560071
Phone: 08040477777
Hours: Open 24 hours
Review: 4.4*
Amenities: Restaurant, Bar ,Room service ,Breakfast, Breakfast buffet, Wi-Fi, Room service, Brea fast, Parking Free, Airport Shuttle
Bonzai Stay: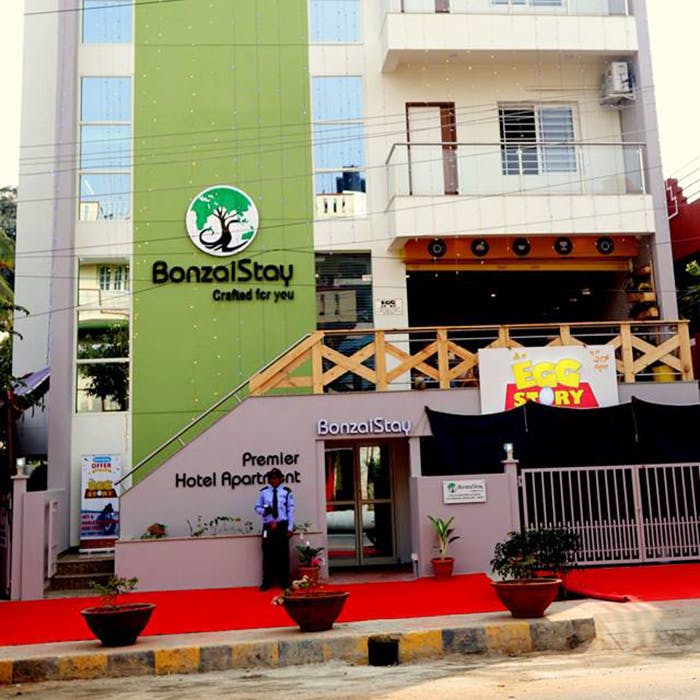 These serviced apartments are located in Kalyan Nagar and as far as the accommodation is concerned, one cannot find a flaw in cleanliness and maintenance. Well-equipped kitchen, dining area and clean rooms with TV, fridge and microwave make staying here easy.
Address: 428, 5th Main Rd, HRBR Layout 2nd Block, HRBR Layout, Kalyan Nagar, Bengaluru, Karnataka 560043
Hours: Open today · Open 24 hours
Phone: 080956 16206
Review:4.5*
Amenities: Wi-Fi, Room service, Brea fast, Parking Free, Airport Shuttle
Casa Oro:
Since this serviced apartment is just 13 km from the Indian Institute of Science, Bangalore, the location advantage is tremendous. Apart from that, the fully furnished apartment with the luxury of enjoying continental breakfast in the morning makes this serviced apartment a valuable proposition.
Address: 338, 7th A Cross Rd, Yelahanka Satellite Town, Yelahanka, Bengaluru, Karnataka 560064
Phone: 08048543496
Review: 4.3*
Amenities: Restaurant, Wi-Fi, Room service, Brea fast, Parking Free, Kid-friendly, Airport Shuttle
Benaka Suites:
For those who are looking for accommodation which is spacious and has lots of open space for kids, Benakas Suites in Bangalore is a good option. Fully air-conditioned with Wi-Fi and private parking in addition to the well-furnished apartments, Benaka Suites fits in the definition of a perfect serviced apartment.
Address: No 6, 10th Cross, Mayura Street, Near Badrappa Layout, Nagashetty Halli, Bengaluru, Karnataka 560094
Hours: Open 24 hours
Phone: 07829011399
Review: 4.4*
Amenities: Air conditioning, Kitchen in some rooms,Wi-Fi, Room service, Brea fast, Parking Free, Airport Shuttle, Full service laundry
Shilton Suites:
If you want to stay right in the heart of the city, a serviced apartment on MG Road is what will suffice your requirement. Shilton Suites is perfection personified. The modern fittings in the apartment add a touch of royalty and thus make staying here luxurious and grand.
Address: 2, Ulsoor Rd, Yellappa Chetty Layout, Sivanchetti Gardens, Bengaluru, Karnataka 560042
Phone: 08041138777
Review: 4.2*
Amenities: Wi-Fi, Room service, Brea fast, Parking Free, Airport Shuttle, Full service laundry
Purple Lotus:
Just 350 meters away from Technological and Industrial Museum, Purple Lotus is a warm and cosy place which can be called a home away from home. The rooms are spacious, clean and well-maintained and there is no dearth of the additional amenities here.
Address: 46, 6th Cross Rd, Shanthala Nagar, Ashok Nagar, Bengaluru, Karnataka 560001
Phone: 08040056300
Review: 4.2*
Amenities: Wi-Fi, Room service, Brea fast, Parking Free, Airport Shuttle, Full service laundry, Accessible, Air conditioning
Justa Indiranagar:
This accommodation has a classy touch owing to the wooden furnishings and typical Indian fabric which spreads ethnicity around. The rooms are large, clean and well-equipped.
Address: 1st Cross Road, 796, 12th Main Rd, HAL 2nd Stage, Indiranagar, Bengaluru, Karnataka 560008
Phone: 09590777000
Review: 4.0*
Amenities: Wi-Fi, Room service, Brea fast, Parking Free, Airport Shuttle, Full service laundry, Air conditioning, Fitness center, Smoke-free property
Godrej Royale Woods
Godrej Royale Woods is a new project located in devanahalli Bangalore. we provide the best 2BHK 3BHK residential designs across the city. It is a very attractive place and more comfortable for people. However, our recognized planners of Godrej group provide a high standard of notch lots of amenities and connectivity cities in Bangalore.
Serviced Apartments near Airport
Frequent travellers might want to stay close to the Bangalore International Airport to avoid transit time. Some of the options which can be checked are:
Hotel Airport Gateway
A2B Transit
Riyansh Serviced Apartments
Staymatrix Serviced Apartments
The city of gardens and temples has serviced apartments in various localities and depending upon the location where you wish to put up depends on your office address, proximity to educational institutions, markets etc. You can pick the one which suits your budget and has the necessary amenities to make your stay comfortable.
Serviced apartments in Jayanagar, RT Nagar, Banashankari, Devanahalli, Chandpura, Wilson Garden, Brigade Gateway and many other localities in Bangalore serve the needs of the people close to these areas and thus make staying here a memorable experience.
For those who don't want to compromise on their comfort and want to spend time in their comfort zone, living in the serviced apartment is the best option. One it saves you from the hassles of buying the necessities and arranging it and second you get the comforts of living in your comfort zone.
Choose your comfort over anything else in the world whether you are on a business trip, family vacation or you have relocated and serviced apartments serve your needs!